CASE STUDY:
REAL ESTATE INDUSTRY
"Our agents are all over the area; Allworx brings them all together and gives us the appearance of being a cohesive group." - Daniel Coffman, Owner, Alpha Real Estate
The real estate industry requires people to communicate in unique and special ways. Real estate agents often find themselves working outside of the office while meeting with potential clients — a situation which makes it extremely difficult to stay connected to any form of communication aside from a cell phone.
However, thanks to Allworx you can now be completely connected no matter where you are.
The Challenge
To provide the appearance of cohesiveness to a mix of independent contractors and employees working out of various locations, and to help them stay connected while working outside of the office.
The Solution
• Allworx 24x or 6x system • Allworx 9200 series phones
The Benefits
• Meets future needs • Ease-of-use • A cohesive image • A good investment • Stay connected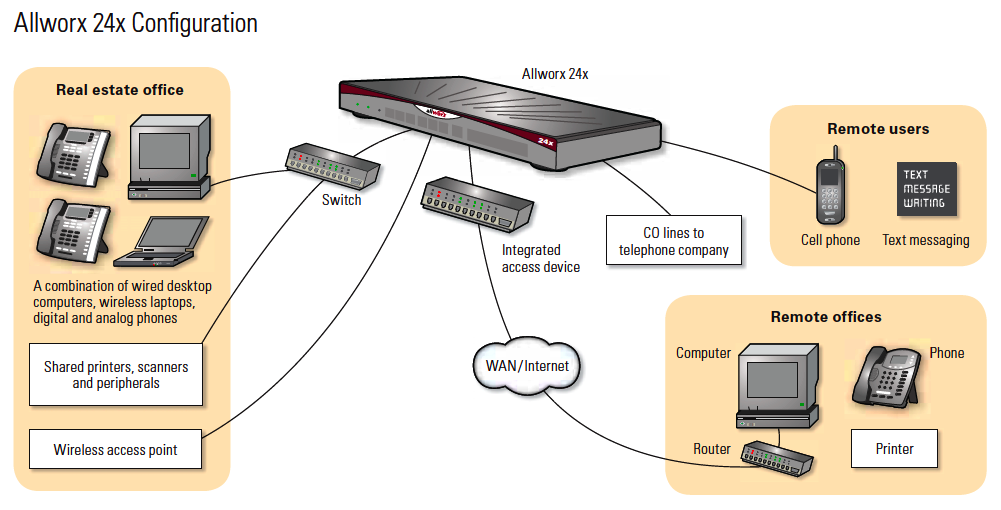 Follow-Me-Anywhere Calling
With Follow-Me-Anywhere Calling from Allworx, you can route your incoming calls to multiple external phone numbers — including cell phones — and then have the calls go to your Allworx voicemail. This allows calls to follow you through various locations simultaneously, giving you the peace of mind that no calls will be missed and all voicemails will end up in one mailbox.
Call routes can be set up a countless number of ways. For example, you can choose to have your desk phone ring fi rst. If you don't answer your desk phone the call can then be routed to your cell phone. If you accept the call on your cell phone the call will be transferred there. However, if you reject the call it will be sent back to your desk phone where the caller can leave a voicemail.
My Presence
Call routes are determined based on your current presence setting. Each Allworx phone has seven associated presence settings, including: In Office, At a Meeting, On Vacation, On Business Trip, At Home, Away, and Busy. A different call route can be assigned to each and every presence setting. In addition, the voicemail greeting associated with each presence setting can also be changed. You can effortlessly toggle between presence settings in a number of ways, either via your Allworx phone display, voicemail or My Allworx Manager site software.
Instant Remote Access
With an Allworx system, you can not only receive calls when you are out of the offi ce, you can also make them. Remote users can instantly connect their Allworx phone no matter where they are using only ordinary broadband connections — no extra hardware, software or cost is associated — simply plug in and go. Best of all, your personal settings are saved on the phone so it will still feel as if you're sitting right in your office.
Off-Site Access Calling
You can also make calls from out of the offi ce even when you don't have your Allworx phone on you by utilizing Off-Site Access Calling. With this feature you can make outbound calls through the Allworx system no matter where you are, leveraging your company's Caller ID information and local phone system lines (analog or SIP).
Off-Site Access Calling allows you to avoid unnecessary calling charges from the off-site location and, to the person you're calling, the call will appear exactly as though you're calling from the office. For example, if you are working out of the office but want your client to see that the call is coming from your company, you can simply call into your voicemail using your home, cell or other phone and then call out through the Allworx system. The client will see the company's calling information and not your personal phone number.
Voicemail Notification Alert
Forget to route your presence setting to your cell phone? With Allworx you have the option of getting an SMS (Short Message Service) text message from the Allworx system with Caller ID information (if available) to your cell phone or pager each time a voicemail is left on your offi ce line. With this feature you are always immediately aware of any voicemail message and therefore can be more responsive to customers. Voicemail Notification Alerts allow employees who are often in meetings or traveling to easily keep track of who's leaving them messages.
Integrated Messaging
With Allworx you can even check your email while working off-site with nothing more than a phone. Simply call into your voicemail and you will not only have the option to check your phone messages as you would normally, but also to check
your email messages with text-to-speech technology which automatically reads your email to you. Or, in the instances where you have access to the Internet but not a phone, you can check your voicemail via your email. Allworx can send your voicemail directly to your email, where you can hear the message as a WAV file and then sort and manage voicemails along with your email and reply to, forward or delete any type of message.
Multiple Voicemail Indicators
Allworx allows you to have multiple voicemail indicators on just one Allworx phone. You can see if there are messages waiting in multiple voicemail boxes by programming the PFKs on your Allworx phone, allowing you to monitor and access multiple voicemail boxes at a glance. If your agency has a general voicemail box for phone inquiries, each agent can have a PFK on their respective phone programmed to turn red when a message is left in that voicemail box. Once the message is retrieved by any one of the agents the PFK on all of the phones will turn off.